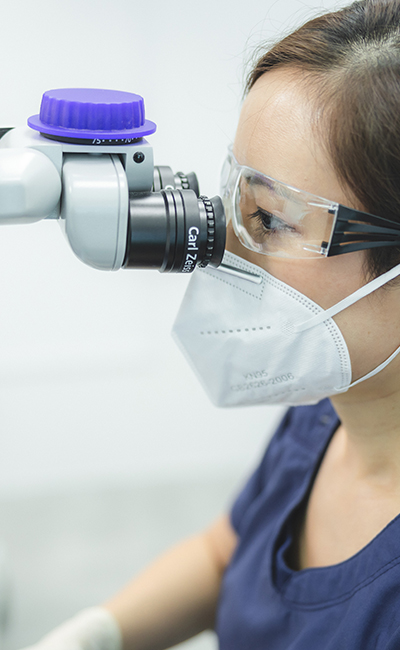 About Us
Twin City Endodontics Pte Ltd is an endodontic specialist clinic that started in 2008. We have a team of seven full time endodontists. Our endodontists received their trainings from University Pennsylvania, Texas A&M Baylor, Harvard University, University of San Francisco, University of Otago, University of Edinburgh and the University of Singapore. We are supported by certified trained dental nurses and auxiliaries. Our clinic is well equipped with a full range of Zeiss microscopes and CBCT 3D imaging x-ray machine for surgical and non-surgical root canal treatment. In addition, we are pleased to be a referring centre for specialists and general dentists who entrust their patients to us for their root canal treatment needs. We practice a compulsory referral back system, rest assured that patients will be referred back to their dentists for routine and restorative care after root canal treatment.
Learn More
Our Services
Cracked Tooth Management
Cracked tooth is commonly associated with pain on biting on the tooth. A crack that extends to the root may need to be extracted.

Dental Trauma Management
When the chipped is confine to the enamel/ enamel dentine, the treatment may range from smoothening up the chipped surface to doing a filling or putting a crown.
Root Canal Treatment
Root Canal Treatment is a procedure commonly performed to remove an inflamed or infected dental pulp from the tooth.
Root Canal Retreatment
Root canal retreatment can assist in the removal of recurrent infection. A successful retreatment will help to prolong the use and the retention of a natural tooth.

Root End Surgery or Apicoectomy
Root end surgery or Apicoectomy is a micro-surgical treatment that aims at removing persistent infection at the tip of the infected root.
Regenerative Endodontics
Regenerative Endodontics provide alternative therapy in managing immature permanent teeth with pulpal necrosis with thin dentinal walls with higher risk of cervical fracture.
Learn More
Visit Us
Ngee Ann City
Ngee Ann City, Tower B,
391B Orchard Road, #08-07,
Singapore 238874
ngeeann@twincityendo.com
Tel:+65 6235 9888
Mon – Fri: 9:00 am – 6:00 pm
Saturday: 9:00 am – 1:00 pm
Open During Lunch Hour
Closed on Sundays And Public Holidays
Parkway Parade
Parkway Parade Medical Centre,
80 Marine Parade Road, #05-09,
Singapore 449269
parkway@twincityendo.com
Tel:+65 6447 2173
Tue – Sat: 9:00 am – 6:00 pm
Monday/ Sunday
Public Holiday – Closed
Forum the Shopping Mall
583 Orchard Road
#06-04 Forum The Shopping Mall
Singapore 238884
forum@twincityendo.com
Tel:+65 6235 3063
Mon – Fri: 9:00 am – 6:00 pm
Saturday: 9:00 am – 1:00 pm
Closed on Sundays